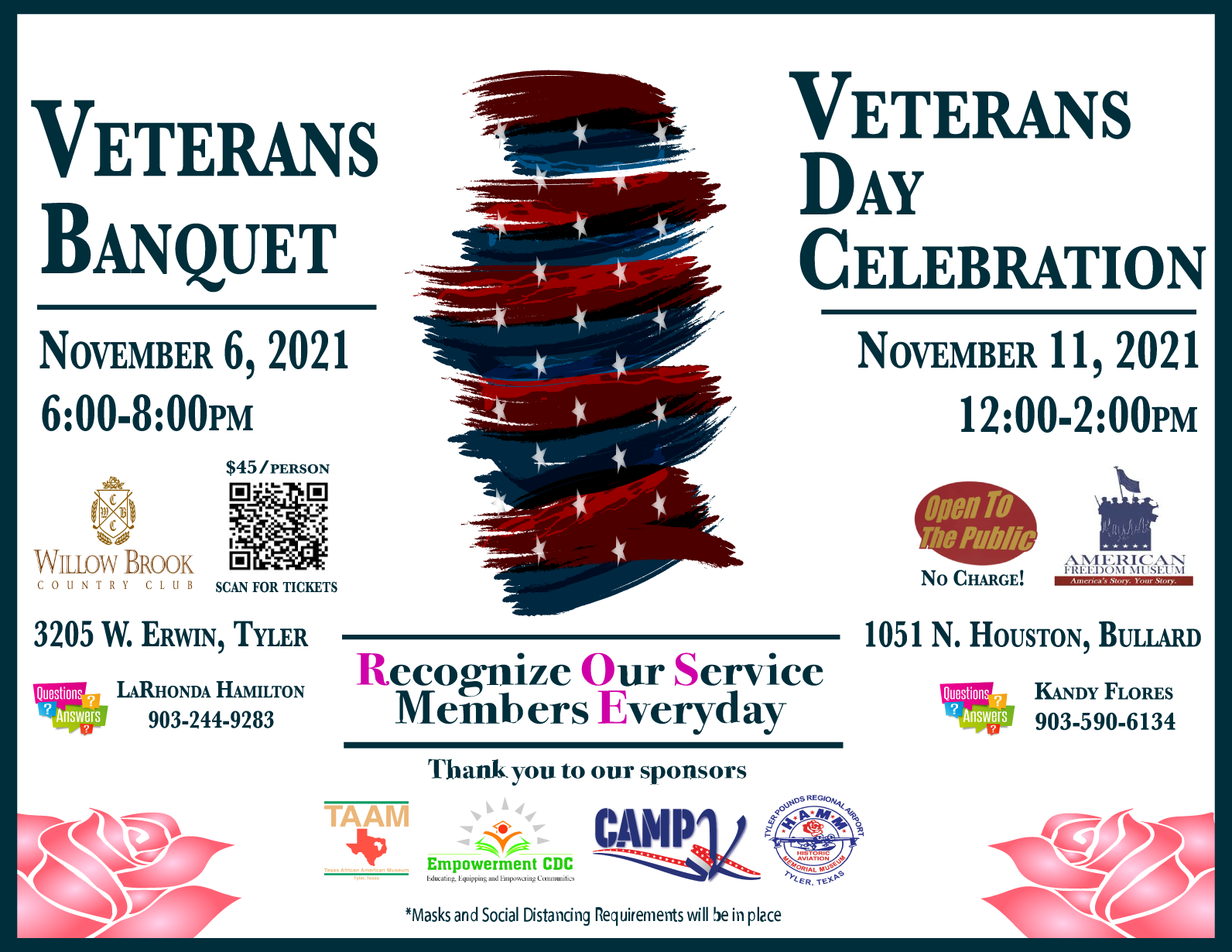 Veterans Day Celebration
Local Community Organizations to Celebrate Veterans Day on November 11, 2021 at the American Freedom Museum
12:00 PM – 2:00 PM, 1051 N. Houston St Bullard, TX 75757.
In celebration of Americans National Recognition of Veterans Day. Local organizations [C.A.M.P.V] Community Assisting Military Personnel and Veterans, Empowerment Community Development Corporation, the [H.A.M.M] Historic Aviation Memorial Museum, Texas African American Museum and the American Freedom Museum in Bullard have merged in an effort to celebrate and honor our nation's military, veterans, and families on Veterans Day, November 11, 2021 at The American Freedom Museum located at 1051 N Houston St, Bullard, TX 75757. The ceremony will be from 12:00 PM to 1:00 PM with a social hour after. The museum will be free and open to the public for tours on November 11, 2021 from 10:00AM to 3:00PM.
The program will consist of a special recognition of all family members and friends of those missing in action or killed in action, musical selections, and speakers. Our guest speaker is Mayor Pam Fredrick of Bullard. Our two veterans at large consists of Army veteran PFC Jo Ann Allen and Navy veteran Nancy Martin.
ABOUT VETERANS DAY
Veterans Day originated as "Armistice Day" on Nov. 11, 1919, the first anniversary at the end of World War I. Congress passed a resolution in 1926 for an annual observance, and Nov. 11 became a national holiday beginning in 1938.
ABOUT THE MUSEUM
The American Freedom Museum on the campus of The Brook Hill School exists for three reasons:  (1) to honor our veterans and active military and recognize the sacrifices they have made to secure our freedoms, (2) to educate this generation and future generations about our rich heritage, and (3) to inspire others to exemplify the courage and character as those featured in the Museum have done.
From the hills and valleys of the American Revolution to the sands of Iraq and Afghanistan, you will discover the journey of those in our nation's military as they have heroically sacrificed to ensure the freedoms that we have today. The Museum showcases the "Hall of Presidents" which displays original signed documents from every U.S. President, from George Washington to Barack Obama.
The "Hall of Freedom" takes the museum visitor through fact-filled galleries showcasing military artifacts and chronicling every war from the Revolutionary War and the War of 1812, to World Wars I and II, the Holocaust, Vietnam War, Korean War, Cold War, War on Terror and more.
For More information please Contact:
C.A.M.P. V
Retired U.S. Army First Sergeant Kandy Flores, C.A.M.P V Volunteer, MC for the Event, Special Programs Coordinator for Carter BloodCare at 903.590.6134 or email at [email protected]
AMERICAN FREEDOM MUSEUM CONTACT
Jan Hommel – Museum Director 903.894.5252 or email at [email protected]