We'll Help You Get Around
Getting around is essential today. Without reliable transportation easy tasks become difficult quickly, and sometimes walking is not an option. In rural areas and cities without robust public transit systems, the need for reliable transportation becomes an issue that many face. It is often the first barrier that the Veteran community faces when they leave the military.
Public transportation is often the only option that a Veteran has, whether it's a bus system or shuttle system. There are resources that are available to Veterans that start with the bus. The City of Tyler has partnered with CampV to help Veterans and their families qualify for free or reduced fare rides, sometimes even providing a pass for a week's time. With a bus stop directly in front of the Resource Center, public transportation is convenient.
GoBus serves the rural community in ways that the city bus cannot. Operating from 6:30 am to 5:30 pm it offers plenty of time to get whatever it is that you need done. Serving 14 counties in North East Texas they have you covered if you need to get around. A program through GoBus called GoVet can help you get to Overton Brooks VA Hospital in Shreveport, LA. You must register beforehand by calling 800-590-3371 and need to schedule your trip in advance. Serving the counties of Camp, Gregg, Harrison, Rusk, and Upshur they can help you keep any appointments that you have.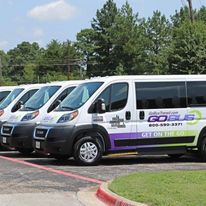 Are you a disabled Veteran that has trouble getting around? The City of Tyler has received grants that can be used to help you get around, a cab ride to your destination, or other shuttle/public transit option. If you are a disabled Veteran and think that you may qualify, we encourage you to sit down with an advocate and talk about your options.
If you don't know if there is anything that would fit your needs or that you would qualify for we highly encourage you to call and talk to an advocate today. Don't let a lack of transportation stand in your way of using the benefits that you earned.
Tyler Transit Providing Veteran's Discount
Tyler Transit offers Veterans discounted rides on fixed routes when presenting the Tyler R.O.S.E. (Recognizing Our Service Members Everyday) Discount Card. Veterans must show a driver the R.O.S.E card to receive the lower fare. All trips will be half the original cost except for the All Day Pass, which will remain $2 for everyone. The Tyler R.O.S.E. Discount Card is a partnership between the Tyler Chamber of Commerce and CampV. Tyler area Veterans are invited to join the program by enrolling in person at the Tyler Chamber of Commerce. To learn more, visit the Chamber's website.