Wayne is a Veteran Advocate at CampV
Wayne Dickson is a U.S. Army Veteran who joined the army in 1985 through the Delayed Entry Program.  Wayne was born in the city of Fukuoka Japan in 1962 on a small island in Kyushu. His father is a Retired SMSGT of the United states Airforce.
Wayne came to the United in 1962 with his mother and his oldest sister and resided in South Central Los Angeles where he attended Kindergarten and First grade while his father went to Vietnam.
Coming from a military background. I bounced around from base to base, school to school and lived on or next to an air Force base most of his life.
I graduated from High School in 1981 located in Sacramento California.
1982 I attended 2 years of College and majoring in Criminal Justice with a minor in Theater.
In 1985 I joined the U.S Army as a Food Service Specialist. I went to Fort Knox Kentucky for my BCT and Fort Jackson S. C. for my AIT.
In 1985, I spent 1 year in Fort Lewis Washington with the 2nd Battalion 60th Infantry Battalion. Where I continued to work as a Food Specialist. My duties included cooking a variety of meals and desserts for soldiers anywhere from 50 to 500 soldiers in a dining facility type setting or out in the field.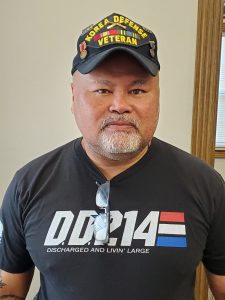 In 1986 I received orders to deploy to Seoul, South Korea where I was attached to HHC 6th MEDSOM Battalion 18th Medical Command located at Yongsan Army Garrison where I worked at the 501st  Dining Facility Support Group where I continued as a food service specialist.
In 1988 I ETS out of the Active Duty and immediately went to my Army Reserve Unit to serve the rest of my contract located at BT Collins Army Reserve Center located in Sacramento California.
I was attached to 2nd 361st Infantry Battalion from 1988-1993 beginning of Desert Shield
1993- 308th Ambulance Unit- Food Service Specialist
1994- 921st Field Hospital-
1995-1998- 319th  Signal Battalion
In 1999 I became a life Member of Veterans of Foreign Wars Post 10125 Rancho Cordova Ca. were I served as a 1st Officer and a Junior Vice Commander. I supported "OPERATION STANDOWN" to help veterans get off the streets. We helped Veterans get a good warm meal, shelter and clothing. I worked very closely with the VA Medical Center at Mather AFB in Sacramento Ca. As a First officer and JR Vice Commander I went out and talked to Local Law Enforcement Officers to seek out  the Officer of the Year award for the best 1st responder that went over and beyond his call of duty to help provide excellent support to their community.
In 2016 I signed up to be a Veterans Resource Advocate for Library Veterans Connect where I started helping Veterans who are transitioning from active duty back into civilian life. I assisted in how and where to go to get into the VA Medical System based upon a Military Discharge other than dishonorable. How to get their Veterans ID Card Where to go if they are interest in Chapter 31 VRE Program. We provided maps and locations of various VA medical facilities for the Northern California Region. I served as a liaison between Library Connect, the VFW and the VA Medical Hospital to get the Veterans the medical help that they need to improve their quality of life.
My hobbies outside the military are that I was a Professional Actor, Director, Producer, Casting Director for Motion Pictures. Feature films, Music Videos, Independent Films in Hollywood California from 1993-2002. Im a member of the SAG/AFTRA actors association. I was a featured actor in movies such as "Showgirls", Beverly Hills 90210, Nothing Sacred, Babylon 5, Training Day, The Scorpion King, The Negotiator, The Champions, Demon Island, Dr. Jeckyll and Ms. Hyde to name a few. I did 7 episodes of the Day Time Soap "Days of Our lives" as a Demera Bodyguard.  Music Videos including  " You know my Steez" and "Ghetto Cowboy" by Bone, Thugs and Harmony. I became the lead Casting Director for ETM Casting and Dark Mansion Films located in Sacramento Ca. I specialize in writing, Directing and Producing Horror and Psychological Thrillers.  My resume can be found on IMDB under my stage name, Wayne Eric.
I build models and military bracelets for various causes.
In 2018 my wife and I decided to move to Tyler Texas to where I continue working with Veterans through CAMPV.