In celebration of America and to benefit East Texas Veterans, CampV is pleased to announce the 3rd Annual Rose City Airfest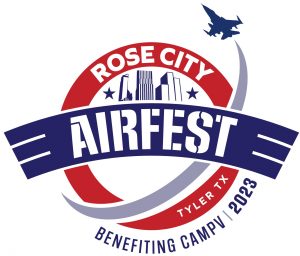 June 30, 2023
Historic Aviation Memorial Museum Tyler Pounds Regional Airport
150 Airport Blvd, Tyler, TX 75704


Check back often for updates
 Check out Highlights of 2022 !
Special Thanks to our Sponsors That made this 2022 Show Possible. We look forward to 2023 !
Frequently Asked Questions
Where Can I Purchase Tickets?
Answer
Tickets will be available for prepurchase March 2023 on line and at gate on day of event.
How Much Are Tickets?
Answer
Tickets can be prepurchased March 2023 on line and tickets will be available at gate the day of event check back soon for price details.
Can I purchase a ride ?
Answer
Check back soon for price details and aircraft available for rides.
What Time Do The Gates Open?
Check back soon for times and information of events.
Where is Parking?
Check back soon for information on general admission and handicap parking locations.
Where Is Handicap Parking?
Check back soon for handicap parking locations.
Is Smoking Allowed?
Absolutely "NO SMOKING" on the airshow ramp or spectator area, this includes E-cigarettes.
Smoking is allowed outside spectator gates and the parking lots.
What Are The Prohibited Items?
No Firearms or Weapons Of Any Kind
No outside food or drink
No ladders or step stools
No Drones
No cans, glass or alcohol may be carried in or out of the event
No cooking equipment
No bicycles, skateboards, rollerblades, Heelys or inline skates.
Can I Bring An Umbrella?
Personal Umbrellas up to 34 inches Are Allowed
No Patio umbrellas, Portable Awnings Or Tents Are Allowed
Are Pets Allowed?
No pets Are Allowed With The Exception Of Service Animals
Are Coolers Allowed?
No coolers or loose ice of any kind allowed through the gates.
Are Wheelchairs Allowed?
Yes, Wheelchairs, Scooters, and Other Mobility Devices Are Authorized For Those That Are Physically Challenged.
Are Strollers Allowed?
Yes, Baby Strollers And Non-Motorized Wagons (Pull Wagons) Are Allowed
What Are The Media Requirements?
*ALL COMMERCIAL AND MEDIA PHOTOGRAPHERS MUST REGISTER WITH THE AIRSHOW PUBLIC RELATIONS OFFICE – If you do not receive approval in an email from the Media Director, you are not considered Commercial and/or Media Photographer
Are Cameras Allowed
Personal Photography And Video is Allowed. For Public Media Guidlines, Please Read The Media Requirements.
What Items Should I Bring?
The Following Is A List Of Recommended Items:
Sunscreen
Life-Saving Medicines
Formula bottles for young infants
Lawn Chairs
Hats
Will There Be Food And Water Available?
Yes, Concession stands will feature a wide variety of food and beverage options for your enjoyment and convenience. 
What Happens If The Event Gets Cancelled Due To Weather?
All sales are final, no refunds will be issued. All proceeds become a donation and will go to benefit CampV and your local Veterans.
Will air travel be affected the day of the airshow?
No, all air traffic at Tyler Pounds Airport will operate as normal.