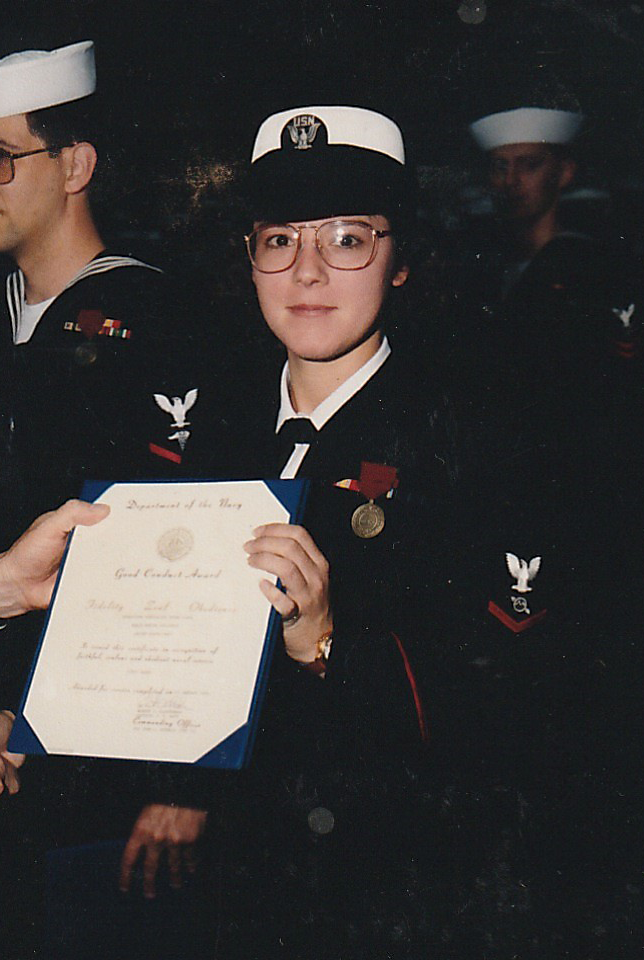 Robin is a 6 year Navy Veteran.  Robin knew when she was 12 that she would enlist in the Navy and after graduating high school, she enlisted and left her small home town of Bogata, Texas.  She attended boot camp at Recruit Training Command, Orlando and then attended Operations Specialist A-School in Dam Neck, Virginia.  After graduating A school, Robin received orders to Roosevelt Roads Naval Station in Puerto Rico and spent three years there working at Atlantic Fleet Weapons Training Facility (AFWTF), which was the Navy's premier training range for ensuring combat readiness of Atlantic Fleet Forces and allowed the simultaneous conduct of gunnery, missile firings, air-to ground ordnance delivery, electronic warfare, and underwater operations, all coordinated with scoring and recording.  Along with being a player in the range operations with the fleet, Robin's collateral duties were being the Divisional Yeoman and Administrative Petty Officer.   In 1992 Robin was selected as Sailor of the Quarter.  In 1993 she received A Letter of Commendation for being a key player in researching, developing and implementing new Personnel Qualification Standards for her division which in turn had an impact on the future training of sailors on the Naval Tactical Data System/Combat Direction System Block Zero that was imperative for Operational Readiness.
In 1994 Robin was a fortunate to be part of Naval history when she was selected to be one of the first women to be part of the Pre-Commissioning crew of a nuclear-powered vessel.  She was one of the first to arrive at the unit and was immediately placed into the role of assisting with the creation and implementation of the School of Ship roster and the creation and implementation of the training for the new arrivals to the Pre-Commissioning Team. 
Women had just been approved in March of 1994 to serve onboard combatant vessels. 
December 9, 1995, Robin, along with 500 other women, became the first group of women to become US Navy Plank Owners of the Nimitz class nuclear-powered aircraft carrier, the USS John C. Stennis (CVN-74). 
During her time on the JCS Robin served as the Naval Warfare Publications Librarian, Training Petty Officer and Link 11 & Link 14 Supervisor.  Robin also served on the Damage Control Team, GQ condition, Repair Party as an On-Scene Leader aka the Fire-fighting Investigator.  
In 1996 Robin was recommended to the CO by her entire leadership for Command Advancement to E-5, which can only happen one time when a vessel commissions, and in turn she was the first female to be Command advanced to E-5 onboard a combatant vessel.
In December 1996 Robin was Honorably Discharged from the Navy after 6 years of service.  She graduated Texas A&M Commerce with her Bachelor's Degree in Criminal Justice in 2012.  She has worked with helping the public in numerous aspects.  Her passion lies in giving back to her community and helping people be able to help themselves.